Bejoy Sebastian is not in nursing for the money, but he is one of the most dedicated, enthusiastic and compassionate people you could wish to meet.
He is a senior nurse at University College London hospitals NHS foundation trust (UCLH) and travels back and forth from his home near Heathrow in the far west of the city where he lives with his wife, Divya, and their eight-year-old son, Emanuel. Sebastian is part of a large dedicated team in critical care who come in from all over the less affluent areas of London to care for very sick people.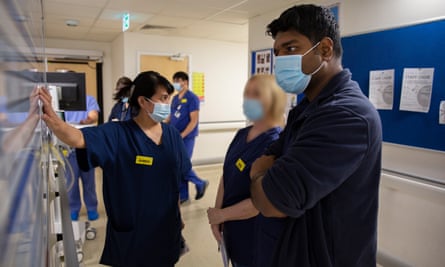 He leaves his house at dawn to arrive before his shift starts at 8am. He is supposed to finish at 8.30pm but, more often than not, stays behind for an hour or two due to his sense of responsibility and care for patients and staff.
"There may be a member of the team who has a problem with a patient or simply just needs to talk. We have had many tears shed in our office over the past couple of years."
He routinely gets home around 10.30pm and it is sometimes midnight before he sees Divya and looks in on his sleeping son.
The working day begins when the night shift hands over to the day team in a room full of clipboards, coffee and concentrating faces, some fresh, some tired, some talking and some listening. After a time, everyone either moves off to their various patients, bays and work stations or grabs their coats and bags for the long journey home, against the flow of the incoming commuters.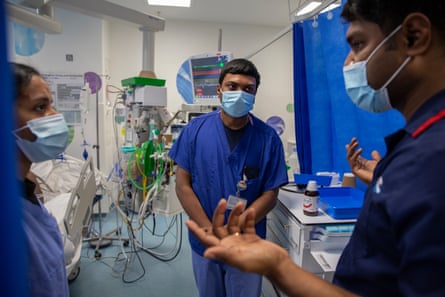 Sebastian works at an incredible pace throughout his day, striding from one job to another, constantly stopping to talk to colleagues and offering information, help and advice. One moment he is in an intense meeting, the next he is clearing the airway of an intubated patient and then writing a proposal to help colleagues thrive in a multicultural workplace. His last job on the day I spent with him was to empty effluent bags from a patient with renal failure.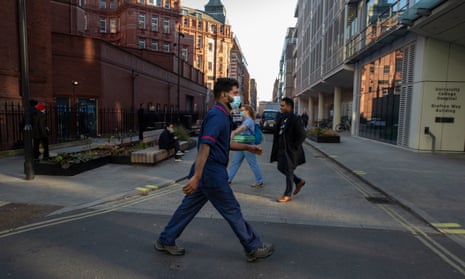 Sebastian and his wife arrived in the UK from Kerala in India in March 2011. Both he and Divya are nurses and have a deep love for the UK and its health service.
"I love this country, my job and my colleagues but there may come a time when I have to consider whether or not I can afford to live here any longer." This problem is due to rates of pay and the cost of living crisis. Sebastian admits that being a senior nurse he is in a better position than many of his colleagues and understands that young, recently qualified nurses may be struggling more than he is.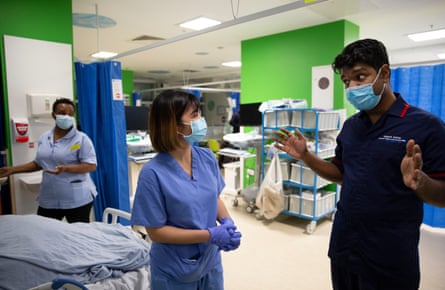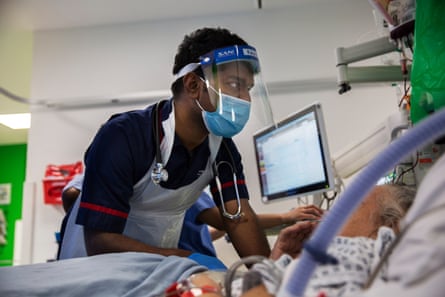 Of the group of 11 nurses who stepped off the plane from India with Sebastian 12 years ago, only three are still working in the NHS and in all cases it is due to the ever-widening gap between pay and the cost of living in the UK and especially London.
"One of the group was desperately trying to buy somewhere to live but found it impossible. I tried to persuade him to stay but he moved to Australia." According to Sebastian many nurses who find it hard to make a living in London either go into agency nursing or move to Australia, Canada or the US.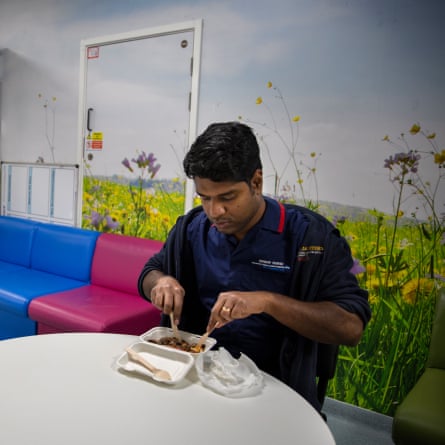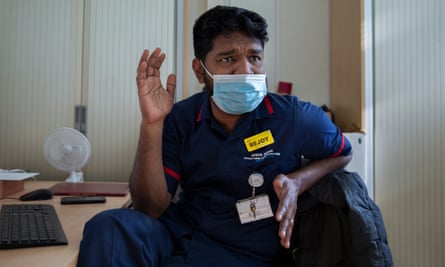 For Sebastian, who has been out on strike with the Royal College of Nursing, it was a tough decision to take industrial action.
Many nurses have a moral commitment to their patients and colleagues and it is a commonly held belief among them that, had they not taken strike action, more patients would die and more nurses would burn out or leave the profession.
"Ten years ago we would attend a leaving party once in six months, now it's five or six every month. They always leave in tears, saying the same thing, 'I love you all and our patients but I can't afford to do this any longer'.
"I have had young nurses come to me and say they cannot afford to pay their pension contributions. It breaks my heart but they say 'it's that or the groceries'."
Sebastian and his wife understand the problem. Even on their combined salary life is a constant struggle to make ends meet. Sebastian has decided he will have to work extra shifts, which will mean even less time with his son.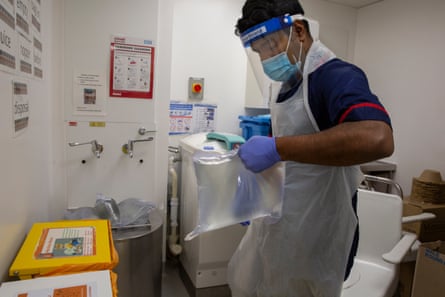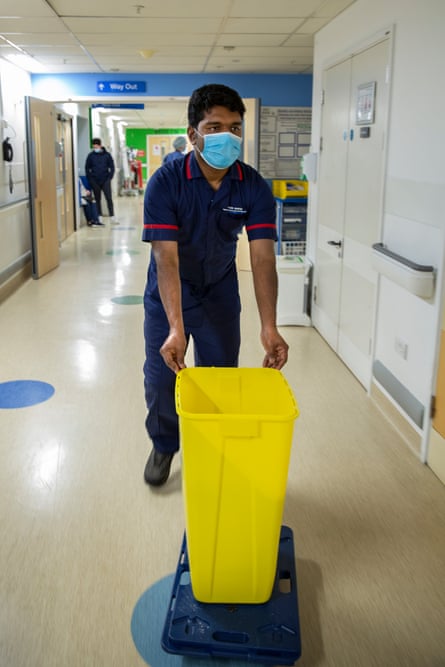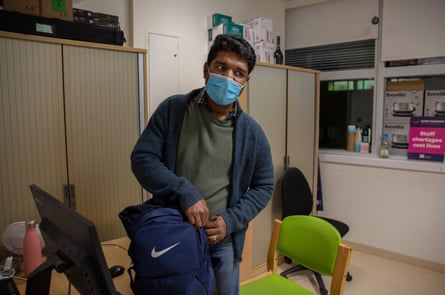 This country needs people like Sebastian and his family.
We need them and our teachers and carers to live and work in our cities, towns and villages for our society to remain a place worth living in.
Back at the hospital, the evening is well advanced and Sebastian is finally stuffing his work uniform into a small rucksack. Just a couple of quick chats with colleagues tonight as he makes his way to the lifts.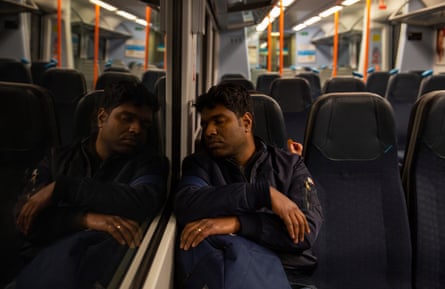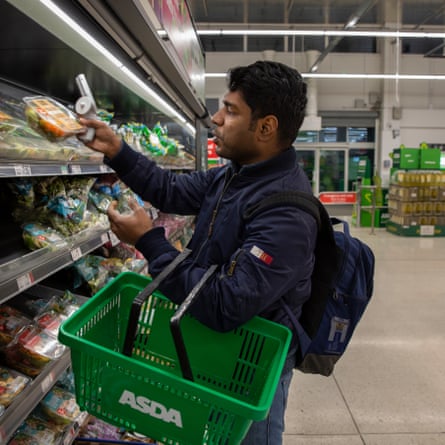 Rush hour is long over by the time he boards the train to Feltham and as we rumble through the suburbs his eyes finally become heavy in the near empty carriage. He has a 15-minute walk from the station to his house via the supermarket and although he is a fast walker he thinks it unlikely that Emanuel will still be awake when he gets in.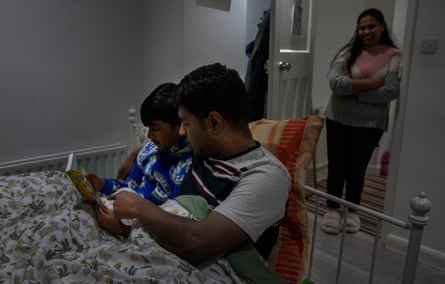 Maybe it's the thought of a photographer coming home with Dad this evening that has kept him awake, because there is just time for a quick story in bed before lights out.