After a few pandemic years dreaming about where you'll travel once the world reopens again, the list of places has grown unrealistically long. Should the next trip be a favorite stretch of tropical shoreline or a capital across the globe? Has binging Emily in Paris made you long for a trip back to France, where you can spend your days indulging in croissants and endless amounts of wine on a terrace?
We're all for familiarity and sticking with someplace we know and love, but if you're looking for a new kind of adventure (because you've already checked off so many on your bucket list), why not travel to a place you're less likely to see popping up in all of your friends' Instagram posts?
We polled our vast network of travel writers and editors to hear what underrated countries top their list of places everyone should visit (yet aren't at risk of over-tourism). The responses zigzag across the globe from quiet coastlines in Africa to island countries rich in music and mountainous terrain—plus everything from underwater safaris to vampires in between.
In a twist of irony, the "hub" of Central America is also the most overlooked when it comes to vacation spots. The literal crossroads of two oceans and two continents, Panama is a tropical wonderland packed with a surplus of mountainous cliffs, breathtaking beaches, and rich culture. It's enough to make you forget about that famous canal.
Panama is often compared to—and passed over for—Costa Rica, its sought-after neighbor to the north. (Confession: I did it too—at first.) But Panama actually beats CR in a lot of categories. It has even more remote mountain and island retreats—the San Blas Archipelago alone houses a labyrinth of nearly 400 outlying islands, almost all of which are unnamed, uninhabited, and/or comprised entirely of coral. And unlike Costa Rica, Panama maintains a higher level of internet connectivity as the business epicenter of Central America (ahem, Panama City!). In other words, it's ideal for those wanderlust-fueled travelers hell-bent on avoiding beaten paths, but still need to stay connected. –Liz Newman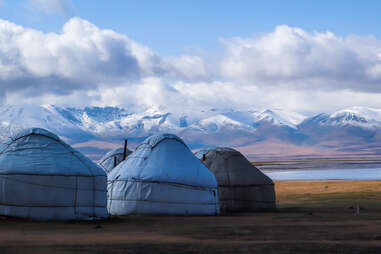 If you're in Kyrgyzstan, you're probably on top of a mountain. A range called Tian Shan ("Heaven Lake" in Mandarin Chinese) covers about 80% of the country, and most of it is at least 1,000 meters above sea level. Its geological features vary from peak to peak, but the landscape is tied together by exquisite, swoon-worthy beauty. You can traverse the country by foot or by horse, embracing the nomadic life by staying in yurts and feasting on stews. And if that all sounds near-mystical, you'll be surprised to discover how truly wondrous the country is. But first, you have to discover it exists at all.
This Central Asian country rewards exploration and effort, from its capital of Bishkek to the sprawling countryside that comprises most of its landscape, where eagles soar and livestock roams. In Kyrgyzstan, the large, circular tents are lined with felt or skins and usually heated with dried cow dung-powered iron stoves. After a 12-mile hike up and down three dozen types of rocks, laying down in one of them feels like slipping on the world's softest fleece-lined leggings. –Michelle No
Seemingly adrift 350 miles off the coast of Senegal, Cape Verde ticks off all the boxes of an idyllic tropical beach paradise: You'll find the requisite sweeping mountain vistas, sparkling beaches, and colonial towns on its land, as well as shipwrecks and whales in the crystal-clear waters. On a strictly aesthetic level, this should be on any traveler's list. But it's the island nation's multicultural aspects that merit a spot at the very top of that list.
Arid and uninhabited when the Portuguese landed here in the 15th century, Cape Verde has weathered deep struggles to forge a truly modern culture across 10 stunning islands, each with its own character. Today, it's where you'll find the rich and nutty stews of Senegal, the colonial heritage of the Portuguese, the party-loving spirit of Brazil, the democratic ethos of Ghana, and the wine expertise of the French. It's all set to a soundtrack of Morna, the national music style that combines joy, sorrow, struggle, and celebration into a complex that permeates the complex beauty of this place, at once speaking to the struggles of its past and the light of its future. –Becki Iverson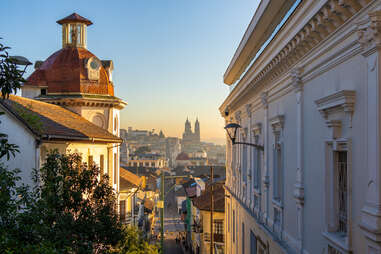 Neighboring Peru and Colombia really zoomed ahead in the race for tourism over the last two decades, the former with its award-winning restaurants and the latter with its powdery beaches. But little Ecuador, sandwiched between the two and about one-fifth the size of them combined, should not be ignored. Boasting its own style of ceviche (with popcorn!) and swimmable coastline, Ecuador's advantage is that it's super easy to navigate. The national currency: the dollar. Andean Spanish: slow and clear.
Head here to be awestruck by the floating forests of the Cuyabeno Wildlife Reserve, the towering peak of Cotopaxi, the sprawling indigenous market of Otavalo, and the colorful architecture of Quito. A compact country of diverse landscapes, Ecuador is ideal for folks with FOMO—you won't miss out on, well, anything. Swim in the Amazon basin, watch blue-footed boobies, and munch on empanadas to your heart's content. Then, dive deeper: Head to a smaller city like Cuenca, or even a tiny town like Loja, where you can take in the beauty of an Ecuadorian central plaza, tour historic structures from pre-colonial times, and hike the surrounding countryside. –Naomi Tomky
Neighboring Croatia gets most of the love these days, but Montenegro is every bit as gorgeous—without the cruise ship crowds. This tiny country on the Adriatic feels huge, and despite being slightly smaller than Connecticut, you can do a hell of a lot in a short amount of time. The beaches on its lush coastline are some of Europe's most beautiful and most raucous, with an oceanfront party scene that can lean swanky like Ibiza or sloppy like Cancun. Hop between ancient Venetian towns like Budva, Kotor, and Perast, with their 15th-century fortifications, charming red-tiled roofs, and delicious seaside restaurants.
When you've had your fill of sun and sand, head to the country's less-traveled eastern interior for sublime mountain ranges, pristine lakes, and wild forests. You can whitewater raft down the iconic Tara River canyon, or hike through the outstanding Biogradska Gora National Park, which is also home to some of Europe's most affordable ski slopes come wintertime. And all this comes at a typical Balkan budget—a local draft will set you back $1.75. –Daniel Cole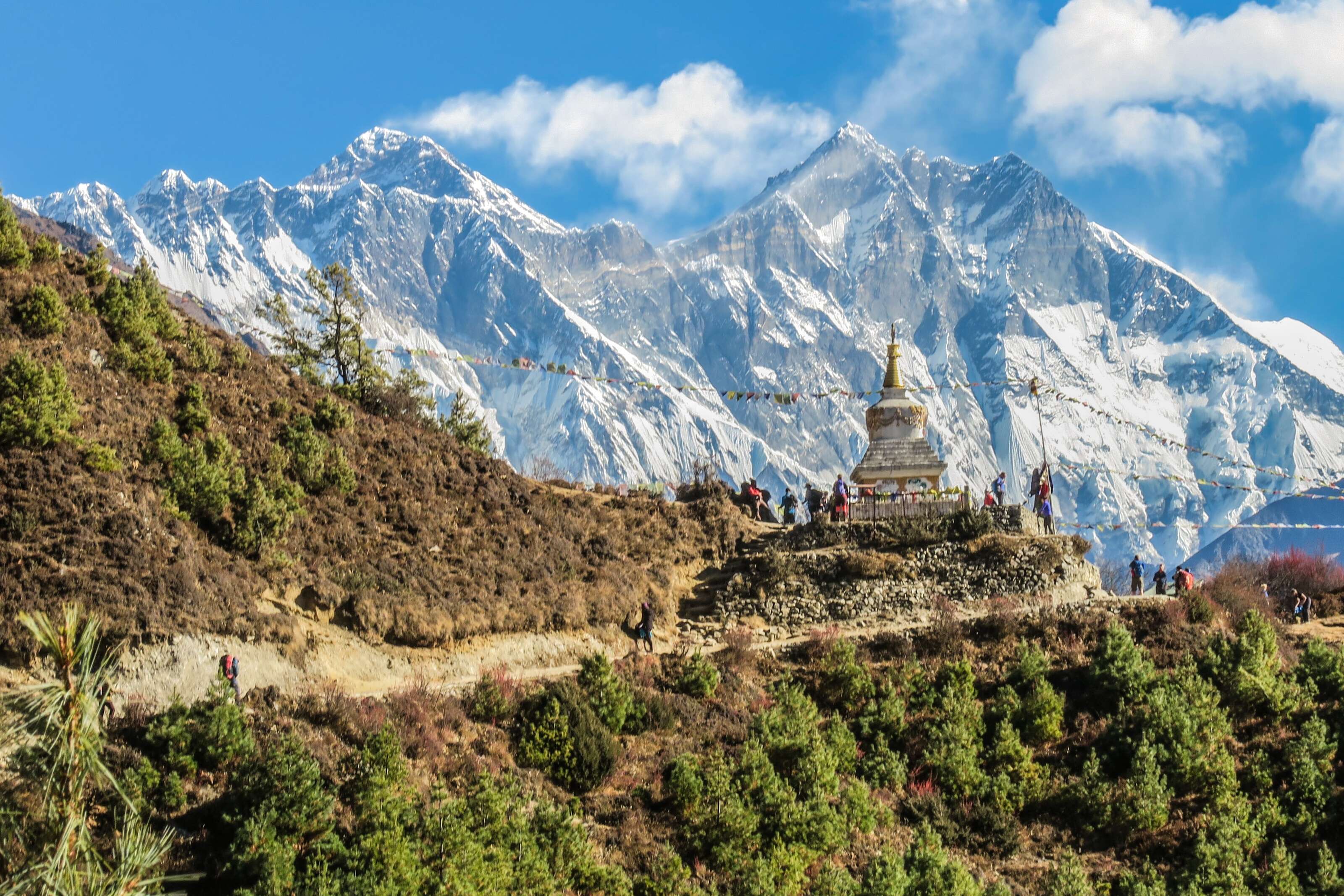 Wedged between India and China, this gorgeous little Himalayan kingdom is more than just a quick stopover on the around-the-world circuit. The dollar goes far, attitudes toward Americans are mostly positive, and nearly half of the locals speak English, easing the initial culture shock of being dropped in a city as wonderfully manic as Kathmandu. Though the country is predominantly Hindu, Buddhist pilgrimage sites are everywhere, affording travelers a chance to tap into the country's strong spiritual vibe.
Not far from the bustling capital is the ancient city of Bhaktapur, where a stunning collection of religious sites make for the perfect day trip for quiet reflection before you explore the rural cliffside dwellings of the Annapurna range, drink yak butter tea in the trekking region around the city of Pokhara, or attempt to scale the famous peaks of Mt. Everest. While mountaineering is the chief activity for a majority of Western travelers, you can also uncover lesser-known sites like the remote Chitwan National Park to view one-horned rhinos, monkeys, and, if you're lucky, leopards and tigers—all while riding atop an elephant, if that's your thing. –Jay Gentile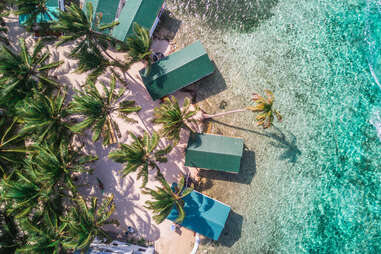 In Belize, the chirps of vibrant birds break the silence in your bungalow—the perfect wake-up call in a place where every day is a choose-your-own-adventure. Want to swim in hidden waterfalls? Test your diving skills in the Great Blue Hole, an underwater sinkhole visible from space? Explore decaying Mayan ruins? Get blessed by a shaman? Hike among jaguars and monkeys? Belize offers it all—and since everyone speaks English, there's no barrier to these experiences on a short or long trip.
While here, be sure to head out on a snorkeling excursion to Silk Cayes, a teeny island 22 miles offshore with nothing more than some palm trees and a grill. You'll float above coral in every color and tropical fish swimming around the Belize Barrier Reef (the largest reef system in the Northern Hemisphere). Then, refuel with a hearty lunch cooked by your guides before snorkeling again—this time with nurse sharks and loggerhead turtles. –Joni Sweet
In the last decade, once-fraught Georgia has redefined itself, cracking down on crime, paving roads, building new airports, and promoting itself abroad. The most dangerous thing in Georgia these days? Chacha, the zillion-proof moonshine that locals will foist on you in the outdoor markets. You might have to squint to find it, but don't be fooled by Georgia's diminutive geography—everything here is dazzlingly over-the-top, from the epically cheesy khachapuri to the whirlwind folk dances to the Alps-shaming Caucasus mountains that tower over the landscape.
Come for the hiking—there's a new Transcaucasian Trail that winds through some of the highest settlements in Europe—and stay for the food, an East-meets-West smorgasbord of slurpable soup dumplings, herb-centric salads, and walnut-thickened stews. Wherever you are in Georgia, expect Old World hospitality at every turn and a steady stream of wine, which Georgians' Stone Age ancestors arguably invented. And don't forget to pile into a 4×4 and zoom up to Gergeti Trinity Church, a mossy candlelit chapel that was built above the cloudline in the 14th century. It sits in the shadow of Mount Kazbek, Europe's fifth-highest peak and the mountain to which Prometheus is said to have been chained after stealing fire from the gods. –Benjamin Kemper
Wedged between powerhouses Brazil and Argentina, tiny Uruguay—a safe, stable, and liberal nation—is more than able to compete with its neighbors when it comes to food, art and design, and natural beauty. From the vibrant, cosmopolitan capital of Montevideo to hip beach towns to the emerging wine region of Garzon, major sites are within an hour or two of each other.
Gaucho culture is strong here, as there are more cattle than people in Uruguay (you may find yourself waiting for cows to cross the bucolic road). Those cattle, it should be noted, are the cornerstone of carnivore-focused dishes through this culinarily rich country, where dining is often alfresco and paired with wine from local vineyards. Meanwhile, if you're looking to party, the beach community of Punta del Este has long been a playground for jetsetters, while a lower-key beach escape is available at José Ignacio, a former fishing village that's still pretty sleepy if you avoid the post-Christmas high season. –Maridel Reyes
If Iceland is a bit too pricey, or you're just tired of seeing the endless Instagram parade of Blue Lagoon shots (to be fair, that place is great), consider another Nordic haven: Finland. Thanks to the country's love of saunas—the only Finnish word to make it into regular English usage—you can get your spa on regardless of the weather.
The country comes with various forms of nature fixes. Fly north to feast your eyes on Lapland's stunning vistas, made all the more magical with a generous helping of snow in the winter and hours of endless sunlight in the summer. For a balance of town and country, head to Helsinki, where careful city planning ensures you're never more than a 15-minute bike ride away from nature. Expansive open space and ocean waves are within reach, as are the country's best restaurants. And for the ultimate urbane getaway, take a 15-minute boat ride from Helsinki to Suomenlinna, a World Heritage fortress and cultural site where you can relax on sandy beaches, stare out from jagged cliffs, explore fortresses constructed in the 1700s, and mingle with a few ghosts. –Laura Studarus
In Laos, the old-school '60s backpack culture—when starry-eyed hitchhikers learned to meditate with monks and lived in dollar-a-day beach huts—is alive and well. For proof, look no further than the "4,000 islands" of the Mekong River, and Don Det in particular, where hostels spill out on stilts into the quiet water, or the spectacular limestone mountains around Luang Prabang. Considered by many to be Laos's cultural (and formerly royal) capital, Luang Prabang is an electric amalgamation of the spiritual, natural, and modern.
Thanks to shared borders, Laos is home to some of the best food in Asia, drawing similarities to neighboring Thailand and Vietnam, but diverging in regional specialties. Coffee, too, is world-class: Many of the plantations around the waterfalls of the verdant Bolaven Plateau offer tastings and overnight stays and make great bases for exploring the plateau's cave systems and underwater lakes. Laos's French colonial legacy is obvious in the wide boulevards and chic villas of Mekong-side cities like Savannakhet and the capital Vientiane—as well as the French bakeries. As for getting around, keep in mind a regional joke about Lao PDR (People's Democratic Republic), which some say stands for "Lao—Please Don't Rush." –Liz Dodd
The fourth country of the United Kingdom, Wales is a gem in Great Britain's Celtic crown. It's home to some of the most spectacular and well-preserved ruins in the world, from the spooky Gothic cloisters of Tintern Abbey (William Wordsworth, anyone?) to the 13th-century Caerphilly Castle, which rises above the mists of the moat surrounding it.
But Wales is more than a heap of medieval rocks. Snowdonia National Park sprawls wildly around breathtaking glacier lakes and mountains, including Snowdon, the country's highest peak. A grand old-fashioned train runs all the way to the top, and if you're after more adventure, the park has miles of trails to explore. The capital, Cardiff—where Doctor Who is made—is a cosmopolitan city with a salty, naval heritage. It's also a great place to catch two of Wales's most important traditions: opera and rugby. Almost everyone in Wales speaks English—although they might be reluctant to in some rural areas in the northwest—but the Welsh language is a spectacular thing in itself. Good luck figuring out how to ask for directions to Ysbyty Ystwyth or Llanfairpwllgwyngyll. –Liz Dodd
In a famously dry country associated with deserts and camels, Jordan's coolest activities have you stripping down to your swimsuit. Scuba diving and snorkeling are probably the last things you'd expect, but the warm waters of the Red Sea offer ample underwater exploration. Seeking the red sands of your Arabian night dreams? Hop on a hump and join adventure providers camping with nomadic Bedouins, all beneath a starry sky in one of the most beautiful deserts on the planet, Wadi Rum. Dubbed "Valley of the Moon," this is just one of several UNESCO World Heritage sites in Jordan—the list also includes the ancient ruins of Petra, the desert castle of Quseir Amra, and the Roman military camp, Umm er-Rasas.
There's no better way to get intimate with the country's otherworldly landscapes than via the Jordan Trail. The cross-country path opened in 2016, connecting ancient trade routes from north to south across some 400 miles, cutting through 52 villages and towns. To complete it in one fell swoop could take 40 days. Alternatively, try the sister route, the Jordan Bike Trail, a 15-day journey of mixed-track cycling across more than 430 miles of rolling hills, farmlands, mountains, deserts, canyons, and more. –Cristina Goyanes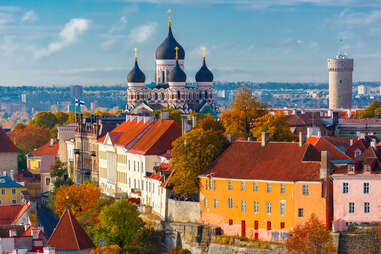 Finland's neighbor to the south, Estonia, counts itself as one of the most overlooked (not to mention gloriously affordable) countries in the entire EU. Already replete with scenic attractions—picture hilltop castles, churches, and fortresses; craggy Baltic islands and old-growth forests; and ancient bogs—the former Soviet state has experienced a sweeping cultural renaissance in recent years that's made an already-attractive country look even better.
Across Estonia, dozens of vibrant festivals go down each year, from the traditional, century-old Song and Dance Festival and Night of the Ancient Bonfires to modern parties like Tallinn Music Week and the Craft Beer Festival. In the Estonian capital of Tallinn—among the best-preserved medieval cities in the world—you'll find over 60 museums and galleries, as well as one of Europe's mightiest "digital cities" (this is the hometown of scores of tech startups and established giants like Transferwise and Skype). We'd also be remiss to mention that Estonia recently became one of the first countries to offer a visa specifically for digital nomads. If you've become interested in ditching the U.S. for greener pastures—and who can blame you—a home on the Baltic Sea might just be the place you've been seeking. –Tiana Attride
Unlike other African countries, Mozambique's Indian Ocean shoreline is largely uninhabited, so you might be the only person on the sand. Here, the land-bound safari is reimagined in the crystal waters: Explore the Limpopo River Valley, or surf and reef dive off the coast of Tofo. You might even get close to one of the last surviving colonies of the gentle and endangered dugong (a relative of the manatee) living in the shallow waters.
Mozambique's proximity to South Africa once made it a popular destination, but a devastating 15-year civil war discouraged tourism—and destroyed the country's infrastructure. The war ended in 1992, and Mozambique is still recovering, but these days, resorts abound. Learn more about Mozambique's struggle for independence in the capital city of Maputo, where colonial-style architecture reveals its past, including the crumbling ruins of the 18th-century Portuguese Fort of São Sebastião. It stands in contrast to the country's future, one of the best examples being the Fisheries Museum, a handsome modern construction detailing Mozambique's seafaring history. –Maridel Reyes
Wedged between Greece and several popular Balkan countries, North Macedonia might not be the "cradle of civilization" it advertises itself as, but don't write it off just yet. Skopje, the once-humdrum capital of the former Yugoslav republic, is today spiked with giant statues and monumental faux-classical buildings. It sort of feels like North Macedonia managed to transport Caesars Palace in Vegas and drop it in the center of town. There are around 50 new statues, including the 100-foot sculptures of Alexander the Great and his father, Phillip. Marble triumphal arches and sculpture-lined bridges compete for attention with the ancient Turkish bazaar, home to tea shops, mosques, and modern museums.
All this makes for an amusing stroll around Skopje. Take a break to indulge in some ubiquitous grilled meat and a pint of beer, which costs a mere few coins. Then head to Lake Ohrid, one of the deepest lakes in Europe, to relax in the ancient lakeside town of Ohrid. –David Farley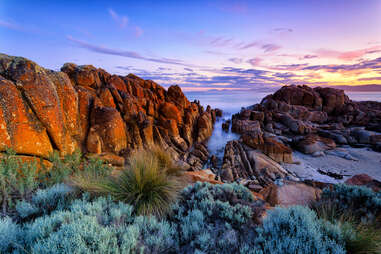 Okay, so it's not its own country, but Tasmania remains a world away from the rest of Australia. Located 150 miles south of the mainland, this Ireland-sized island transitioned from backwater to a low-stress, visitor-friendly paradise poised to blow up as the (Under) Down Under destination.
In the food-rich cosmopolitan city of Hobart, you'll find the Museum of Old and New Art, a marvel of the bizarre where an ultra-tattooed still model redefines the meaning of "still," a waterfall flashes timely words, trick-of-the eye exhibits test your balance, and entrees at the museum's restaurant are served upon "living tables" of micro herbs and mosses. Meanwhile, Tassie's second city, Launceston (they call it "Lonnie"), is a quaint outpost spilling from a splendid river gorge. Temptations include an artificial, hormone-free steakhouse, an internationally acclaimed lager brewery tour, and a sanctified craft beer hangout. It's also a launch-point for the epic Bay of Fires Lodge Walk and the Wukalina Walk, Tasmania's "new" ancient walkabout honoring the Aboriginal cultural heritage. –Bruce Northam