I just finished sailing onboard Celebrity Cruises for the first time – and I absolutely loved it. 
As a very loyal cruiser with Royal Caribbean, I've always been intrigued by Celebrity Cruises. Both owned by Royal Caribbean Group, Celebrity seemed like the cooler and older sister to Royal Caribbean. 
From my research, Celebrity Cruises offered a more grown-up approach to cruising while still being fun and trendy. The cruise line is more destination-focused than Royal Caribbean and aims to provide an accessible approach to luxury for adults.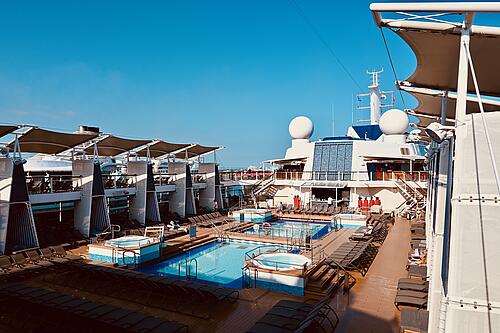 While researching spring break cruises, I was shocked to find a relatively cheap cruise onboard Celebrity Silhouette. This cheap sailing was 4-night weekend sailing to Key West and Nassau, with one sea day to explore the ship.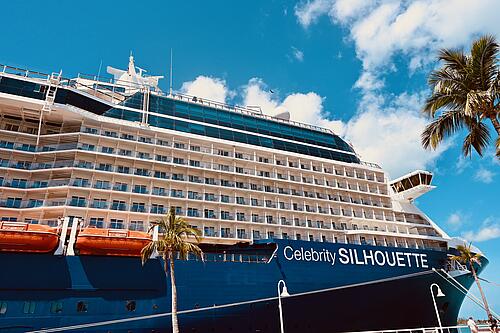 This cheap cruise was $846 for two people and even included $100 onboard credit. I couldn't say no to this deal for a more upscale cruise line and easily convinced my sister to join me. We enjoyed a spring break cruise last year on Royal Caribbean's Mariner of the Seas, so we were eager to compare the experiences on our first Celebrity cruise. 
Here's how our cheap Celebrity cruise compares to Royal Caribbean. 
When it comes to trying a new cruise line, I think it's very important to have realistic expectations.
I'm always eager to try a new cruise line, as I firmly believe there is a cruise line out there for everyone. Each cruise line has its own unique style and onboard experience.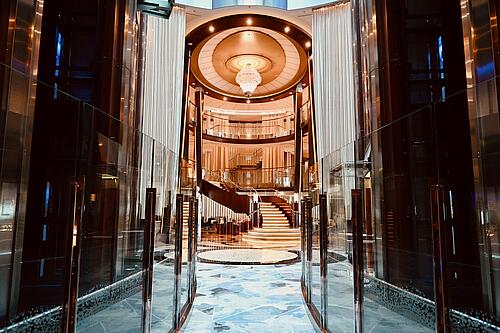 Since I grew up cruising on Royal Caribbean with my family, this has always been an obvious choice when I go to book a cruise. I've had wonderful experiences with Royal Caribbean throughout my life. Not to mention, their Crown & Anchor loyalty perks easily persuade me to keep coming back and their cruises are reasonably priced. 
Because Celebrity Cruises is owned by the same company as Royal Caribbean, this cruise line has enticed me more than others. As I've gotten older, Celebrity Cruises has appealed to me more because it caters to the adult experience. My husband and I have no children (unless you count our dogs), so it feels like Celebrity is a good fit for this stage in our lives.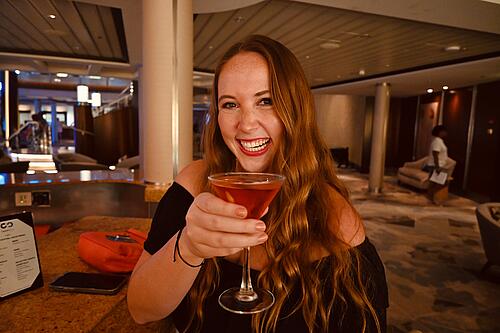 As someone who is very destination-driven when booking cruises, Celebrity's itineraries to incredible destinations like Antarctica, India and Egypt, are pretty irresistible!
For my first Celebrity cruise, my expectations were heavily influenced by my parents, who just returned from their very first Celebrity cruise together last month. On an 11-night sailing to the Panama Canal on Celebrity Edge, my parents (age 62) said they really enjoyed their experience, but they felt young onboard their cruise!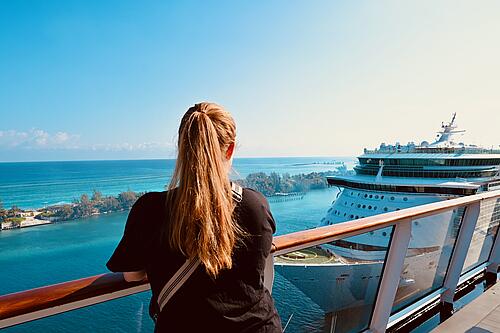 They warned my sister and I that we might be youngest people onboard our cruise; my sister is 25 years old and I just turned 28 last month.  Our parents said we might even get bored by some of the entertainment since they found most of the performances featured music from their era.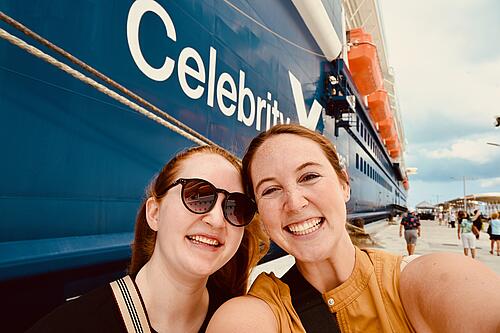 With this in mind, my sister and I were prepared for a more laid-back and relaxing spring break experience onboard. In all honesty, we can have fun on any cruise ship so we were more excited than anything just to see what Celebrity had to offer. 
Although Celebrity caters more to adults, I was very curious to see what type of demographics would be onboard this cheap spring break sailing.
Anyone who cruises often will tell you that spring break cruises will inherently have more families and kids onboard – but would that hold true for a more upscale, less kid-friendly cruise line?
Much to my surprise, we initially saw quite a few families onboard. I had always envisioned that a Celebrity Cruise would be mostly adults, and my sister and I were prepared to be on the younger side of the demographics.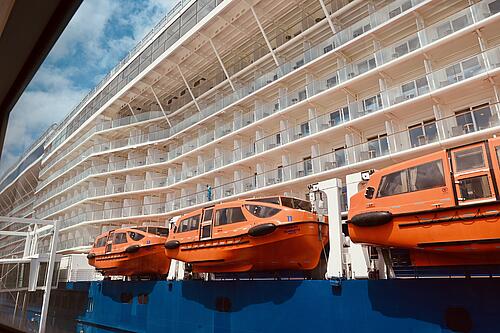 I knew Celebrity offered childcare, youth programs and teen clubs, but I was under the impression that kids were allowed onboard, but the Celebrity Cruise experience is not catered towards them. 
Without water slides, splash pads, trampolines and zip lines, there really isn't much for kids to do for fun activities onboard a Celebrity cruise ship when compared to Royal Caribbean.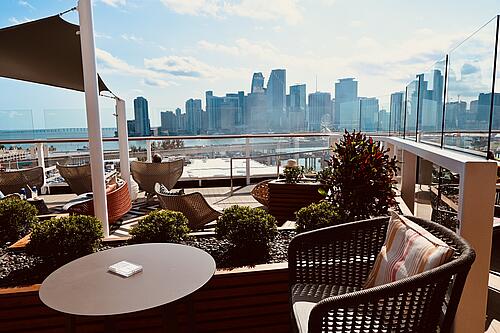 Bumper cars, rock walls, and FlowRiders are replaced with craft bars, plushy loungers with ocean views and and an open lawn with real grass on Celebrity. 
This is where my expectations were totally wrong. While Celebrity Cruises is adult-focused, it is not exclusively adults-only.
During our 4-night spring break sailing, we saw many families and tons of kids onboard from the start. 
The first people we met in the elevator had two small children – and they said this was their very first cruise! I was shocked that a family with young kids wouldn't choose to sail on Royal Caribbean instead, which arguably has way more to do for children on almost every ship in its fleet.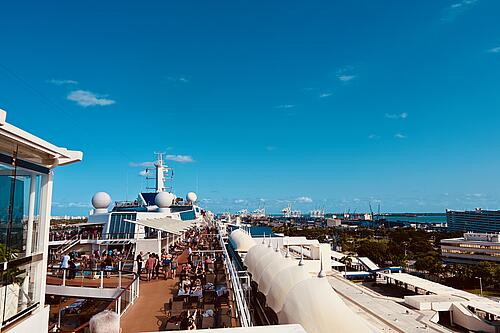 Personally, I would recommend Royal Caribbean to any family looking to take their first cruise, as their cruise ships have much more to do for children of all ages. I had wonderful experiences as a kid on Royal Caribbean growing up. 
The first night at dinner, we were seated at a table for two in the main dining room. A family of ten sat directly next to us with kids as little as five. The table on our other side had a very fussy toddler – every single night of the cruise.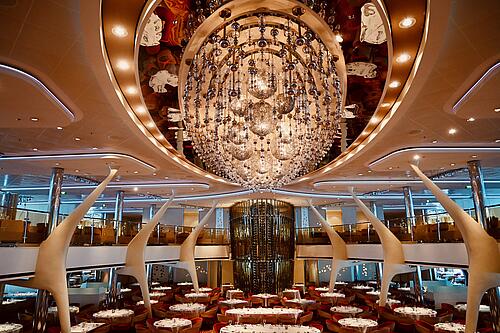 Dinner involved many screams from the kids we were surrounded by. I never thought I'd be hearing an entire table sing Baby Shark on a Celebrity Cruise nor did I think we would hear screaming toddlers during our dinner. My sister and I laughed as we recalled our parents saying we would be the youngest people onboard!
I truly didn't expect these demographics on our cheap Celebrity cruise – and my sister and I were far from the youngest onboard. 
Given the cheap price of the cruise and the subsequent timing with spring break, this definitely attracted more families than expected. I noted that Celebrity does not offer these 4-night sailings year round and only features these itineraries during the winter and spring break.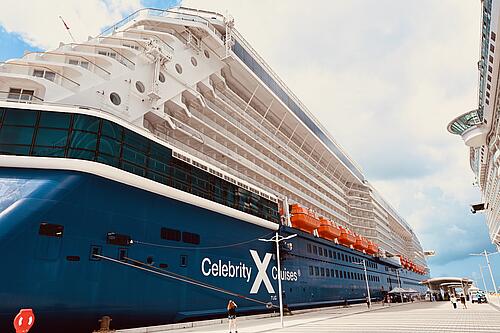 More than likely, our spring break cruise attracted more families and kids than a normal Celebrity cruise. Luckily, we only found the kids to be a little bit distracting of our experience in the main dining room. 
I wish the tables around us had taken advantage of Celebrity's childcare options so everyone in our area of the main dining room could enjoy a distraction-free meal. 
My sister and I really enjoyed the more laid-back and chill vibes onboard Celebrity Silhouette.
Celebrity Silhouette had plenty of activities happening throughout the ship, but overall we really enjoyed the laidback, chill vibes onboard. My sister and I aren't big partiers or major drinkers, so this cruise style was the perfect fit for us.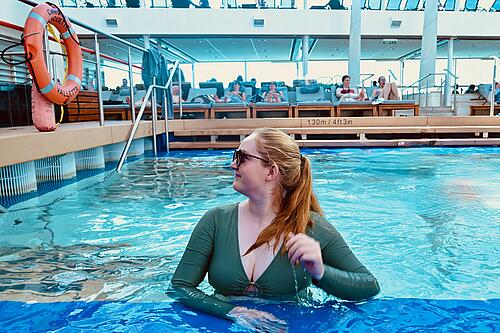 We were impressed by all of the thoughtfully designed spots onboard Celebrity Silhouette to relax and chill. The Solarium had big plushy loungers with towels perfectly folded; we spent almost every day in the Solarium relaxing. 
Throughout the ship, you could find daybeds and large loungers to sit in. I didn't feel like there was a problem with chair hogs and the staff seemed pretty attentive with enforcing the 30-minute policy.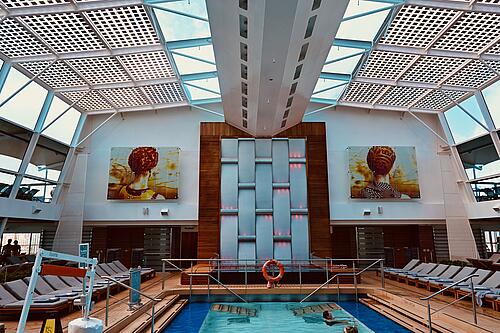 Last year on Mariner of the Seas during our spring break cruise, we struggled to find chairs near the pool. And you could forget about snagging a coveted daybed in the Solarium! This was never the case of Celebrity Silhouette. We were always able to find chairs and even the luxurious seating was available throughout the cruise.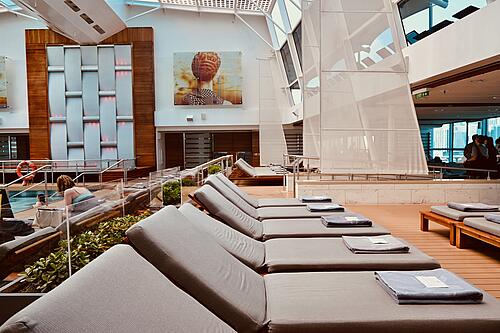 We enjoyed sunset cocktails at Sunset Bar, which was arguably our favorite place onboard. Sunset Bar has a European flair with tons of cool spots to chill. We listened to live music as the ship sailed off into the sunset from Nassau.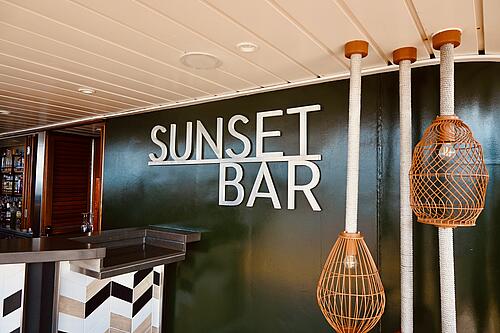 The Lawn Club, which features real grass, was another lovely spot on Celebrity Silhouette. If we were looking to enjoy open-air or peace and quiet, we could always rely on The Lawn Club. The nearby Lawn Club Grill would have been a cool place to have dinner one night, but a 4-night cruise simply isn't long enough to enjoy everything. 
I joked that the grass looked a bit like my own yard while my husband was gone on his last deployment with a few patchy spots, although I don't have the excuse of keep grass alive on a moving cruise ship.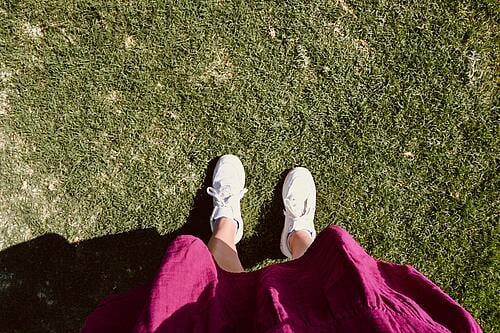 The food and service onboard Celebrity Silhouette felt top-notch, regardless of the type of sailing we were on. 
Even though this sailing was just a 4-night spring break itinerary, we still felt like Celebrity brought top-notch service and food, leaving us really impressed.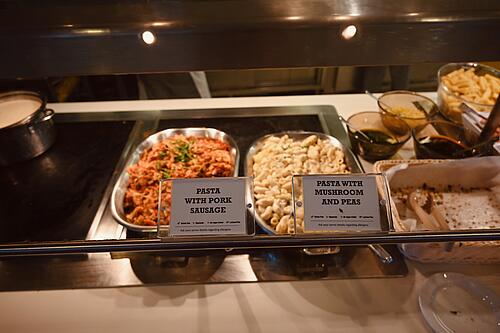 During other spring break cruises I've taken, these sailings have always felt a bit more chaotic. I think a party crowd can lead to more chaotic cruise experience in general, especially when cruise ships are sailing at full-capacity, which is typically during spring break.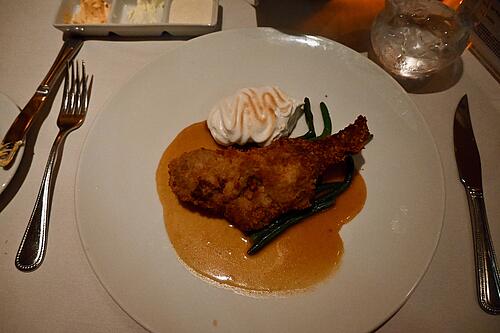 Last year, our sailing on Mariner of the Seas was super packed and we noted that food and service took a small hit because of it. This didn't dampen our experience of course, but it was certainly something we noted.
We felt that the food served throughout Celebrity Silhouette, whether that was breakfast in the Oceanview Cafe buffet, dinner in the main dining room, or grabbing a snack at the legendary Cafe al Bacio, everything tasted delicious and high-quality.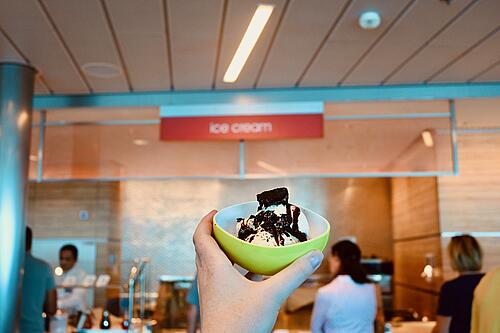 I never felt like our ship was overly crowded and the crew members did not appear to be overwhelmed. Celebrity Silhouette felt appropriately staffed, which has not always been the case in a post-pandemic sailing. 
Celebrity Silhouette had stellar entertainment onboard that perfectly fit our demographics.
In the evening after dinner, we listened to fabulous live music while sipping on martinis from the Martini Bar. The bartenders are known for all the tricks they can do with the martini glasses and shakers.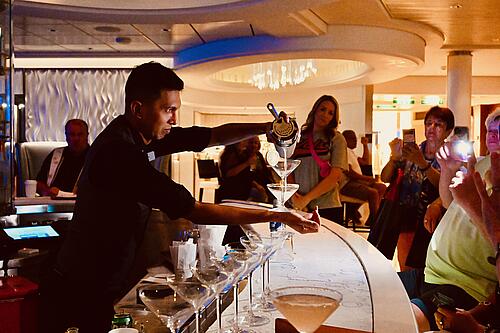 We noted that Celebrity Silhouette had wonderful live musicians and seemed to perform music that everyone would enjoy.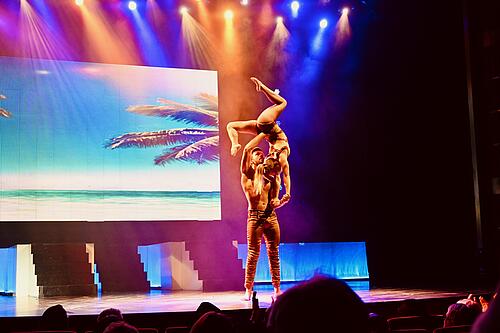 The headliner shows were fabulous onboard as well, including the main production show Cosmopolitan. We sang along to all of the music, which ranged from Rihanna to Eminem. I laughed aloud when the performers quoted an iconic line from The Devil Wears Prada, "By all means, move at a glacial pace, you know how that thrills me".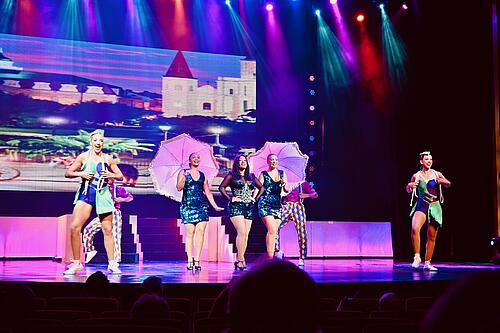 I belted out the words to Miley Cyrus' Wrecking Ball and become unexpectedly emotional during the closing song of On Top of the World by Imagine Dragons, which always reminds me of my semester abroad experience. 
Everyone loved the performance. I thought some audience members might personally know a few of the performers with how they were dancing and cheering for everyone. It was a really fun atmosphere. 
Late into the evening, Celebrity Silhouette hosted headphone disco and full-moon parties on the top deck. 
Two of the evenings, my sister and I went to the top deck of the cruise ship to check out the big parties happening late into the night. The headphone disco was packed with people dancing around all of the pools as the DJ bumped tunes.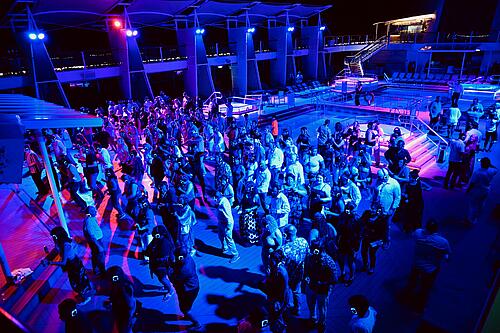 The second party was a full-moon party, which featured one of our favorite bands onboard playing live music. Nothing was rowdy or wild by any means, but everyone was having a fabulous time dancing under the stars as Celebrity Silhouette sailed through seas that resembled sheets as glass. 
As the nights came to a close, we found solace in our spacious inside cabin.
To cash in on our cheap deal, we ended up booking an inside guarantee cabin for this sailing on Celebrity Silhouette. We were shocked by how spacious and modern our inside cabin was compared to any inside cabin we've had on Royal Caribbean.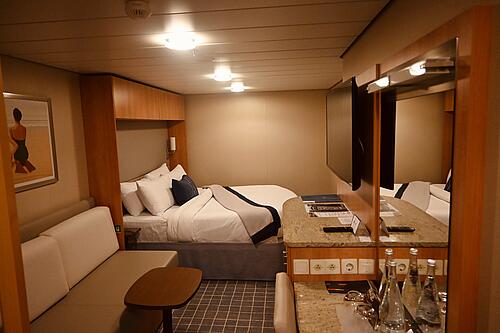 One evening, we even returned to a beautiful, fresh rose from our wonderful stateroom attendant. We found our inside cabin to be functional and stylish. The beds, which we ended up separating, were very comfortable as well.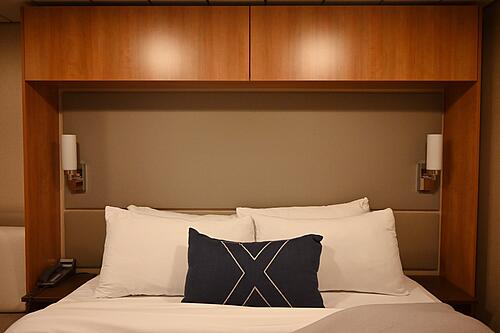 Unfortunately, we were located at the very front of the ship, directly next to a 'Crew Only' door. I was worried about the ship's motion since this cabin was pretty far forward on the ship, but I really should have been worried about noise.  
Being this close to a mysterious 'Crew Only' door meant we were woken up at 5:30 each morning by a slew of different thumps and clinks. A little white noise and earplugs helped with this, although I definitely didn't sleep as well as I had hoped. 
We loved our first Celebrity cruise and already can't wait to plan another one. 
Our quick 4-night sailing was just a taste of what Celebrity Cruise has to offer and we really loved what we experienced onboard Celebrity Silhouette!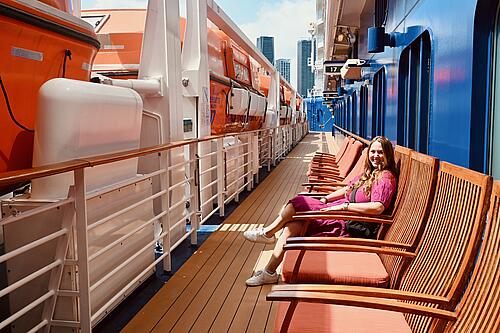 At the end of the day, 4-nights really isn't enough to get a full-picture of a cruise line. Each sailing can be different depending on when you sail, where your itinerary is going and how long your sailing is. Longer sailings normally attract more retirees because they don't have to worry about being away from work while shorter cruises tend to cater to a younger demographic. 
I was still surprised to see as many families and kids onboard as we did. I did anticipate a more lively atmosphere because it was a short weekend cruise during spring break, but I was shocked by the number of kids onboard.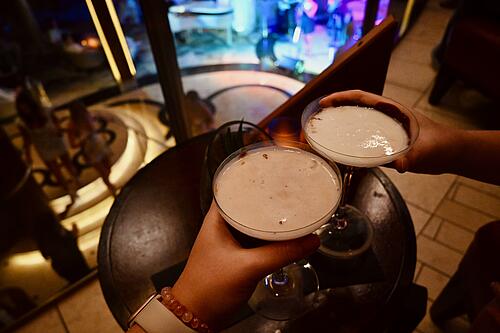 I have a feeling this was an anomaly experience given the timing of our cruise and the price of the sailing, but I am eager to see what a different Celebrity cruise would be like! I loved having a more adult-focused cruising experience with a flair of luxury.